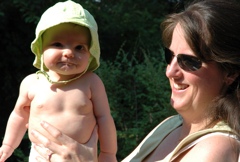 Learning is a lot of work. I spend a little time with my girls, a lot of time with Greek, and what's left gets spread around to everything else.

Becoming a "theologian" wasn't near the top of my list of reasons to come to Dallas Theological Seminary. In fact, it wasn't even on the list. Like many other students, I'm here because many leaders that I admire came here. I came to learn what they learned. We came to learn how to effectively meet the needs of others. The first thing I've learned is that to some degree, I am a theologian and so are you.
Theology is not what I so adamantly opposed. Theology is simply thinking about, or studying God. I've been a theologian (albeit amateur) for many years. Even the agnostic who questions God or the atheist who denies Him is practicing theology. So, it's not theology I was opposed to, it was bad theology. So, what is bad theology?
If you are even slightly interested in what theology is, I highly recommend a very easily read book: Who Needs Theology by Stanley Grenz & Roger Olson. It explains what theology is all about and outlines the degrees of theology which range from "don't confuse me with the facts; my mind is made up" to "I will believe only what I understand." Obviously, good theology is neither of those extremes. Theology is not (yet) what I expected, it's better.