Olympic National Park
The Olympic mountains are about two hours drive from Seattle (by the time you take the ferry and get to a park entrance) which is, by most measures, pretty close. I've been over there a few times now and every time is just as good as the first...the area is just breathtaking. But hey, I don't expect you to take my word for it, come out and see for yourself. :-)
Here are some photos from my trip out there with a best buddy, Nathan Dewey. The first is on our way up to Hurricane Ridge which, during the summer months, is in full bloom and covered for miles with wild flowers. It's pretty heavily visited which these very tame deer made obvious. This picture was taken from the passenger window of the Jetta and they weren't standing but a few feet off the road.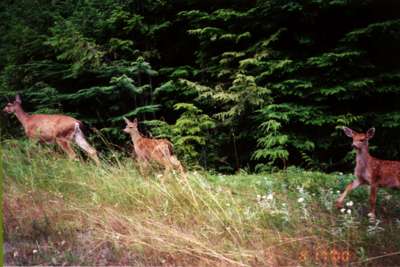 Oh yeah, and all these photos were scanned at high resolution so you can click them to get the larger higher resolution version. After driving up to Hurricane Ridge we had a jolly good time driving the Jetta back down that mountain road. :-) The Jetta was right at home, zipping around tight turns and just plain enjoying the trip. Nathan and I had a pretty good time too. From there we drove to our evening destination, Olympic Hot Springs. We hiked a couple miles into the campsite, set up and camp and then set out to find these springs I had read about.
The Olympic Hot Springs were discovered around the turn of the century and a resort was built in the area sometime around 1930. There was a nice little road you could drive all the way back into the springs and spend the weekend at this incredible little resort. Anyway, it later got turned into a park and eventually the resort caught fire and the park service didn't let it get rebuilt. Since then the springs have returned to nature and, were it not for the recorded history, you'd never know the resort had been there. There's now just a deteriorating road you drive in. After parking you hike in a couple miles and a campsite with bear wires is on your right and a bridge across the river to your left. You cross the bridge and you can already smell the sulfur.
Since we had dropped camp we were in our Tevas so as we walked along the trail the runoff was all nice and warm. A good sign. :-) The Hot Springs are actually a collection of small pools, each about a foot or two deep and made of rock piles built up along the side of the mountain. The hot water seems up and out of the mountain and starts running down into these little pools. We found a couple pools that night but they were pretty crowded so we walked all the way to the end of the trail where the last pool was. A young couple had their tent set up there so we crashed their party for a while.
As we were leaving the pool some lady with a baby voice (couldn't tell much else, it was dusk) came up and stripped nude and climbed in. Hrmmm, not too polite. The next morning we got up bright and early and did a little spring exploration. We checked out each of the six springs and evaluated each for water clarity, sediment, and water temperature. One was so hot we couldn't stay immersed for more than a minute. Here's Nathan standing beside one of the pools.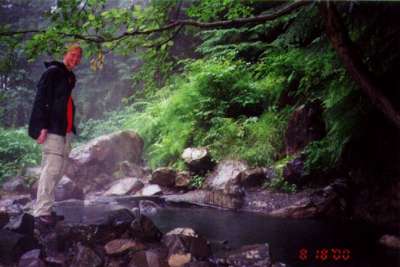 This is me parked in the nicest of the pools. It's really nice, it's got both hot and cold water spigots that you can control (via piling the rocks appropriately) and a nice flat area to sit/stand on out of the water. It's also got a couple pieces of carpet on the bottom so you don't have to sit on rocks. Someone, appropriately enough, carved "heaven" on the large log behind my head. Nathan was already dressed and ready to go. "Come on Matt..." He didn't yet know that he wasn't in a hurry to tackle our days climb.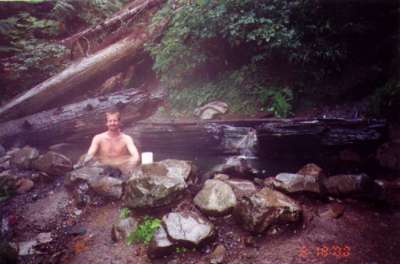 The flowers were in full bloom and all along the 15 miles we hiked we kept getting treated with fields full of wild flowers. It's quite amazing really. This photo was taken high up on some ridge that was obscenely high.....something like 5,400 feet. Out here that's a little mountain but after climbing 5,000 feet of it in the first five miles of the trail, its just plain rude. The first thing Nathan asked for was "mountains, I want to see mountains." He wasn't disappointed. :-)
Our first day out was easy, hike into camp, loaf in the springs, make dinner, and sleep. The next morning, after loafing in the springs and pumping water we hiked up all morning. Five miles isn't that far but when it's uphill the whole way, man, it becomes something resembling work. He had 10 miles to cover, the first file was uphill and the last 5 was ridge tops, up down, up down, up down. One of the neat things about climbing up that high is that you get into pristine wilderness. The trail and mountain is so steep there's no practical way to log it off, so they didn't. There's plenty of trees as big around as you are tall. Real forests. Cool.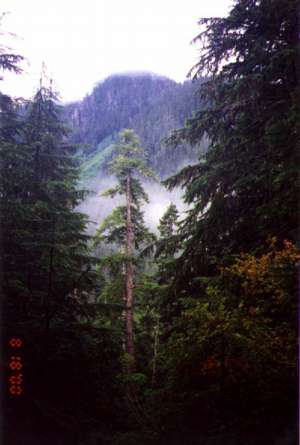 Once we got up the mountain the clouds rolled in obscuring most of the views. We were so warm from the mornings hike we didn't care about the rain. It felt good so we didn't bother donning rain gear. We lamented that choice later.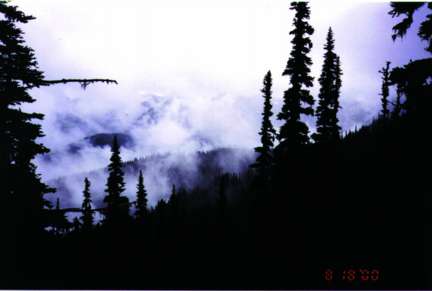 As we drew near our campsite we noticed a couple bucks and a young doe munching on the flowers. This is way out in the mountains where the deer aren't so tamed. The picture below was the result of Nathan and I walking at about the rate of one foot every minute for about 45 minutes to get near these guys. When they finally noticed us they trotted away but we just stood there and the young bucks curiosity drew him back in. They eventually came within 30 feet of us before we just started walking down to camp because we were approaching hypothermia and needed to build up some body heat.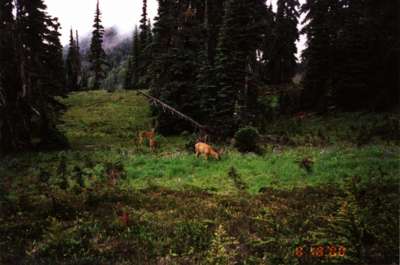 We got into camp around 4 and found some shelter and put up the tarp. Once the tarp was up we stripped off our wet clothes and climbed into our bags to warm up. We never left our bags. I fired up the outback oven and cooked a couple dinners right next to me. After eating our pizza and whatever else we went to sleep around 5pm. The next morning it was still raining. :-( We got up around 4 AM and put on our soggy wet clothes and hiked out. Hiking down 5,000 feet is worse than hiking up.