I have 4 lines with AT&T and am less than pleased. While data speeds are excellent, any call longer than 20 minutes will drop at least once. Coverage at my house is poor. AT&T's voice quality is poor and has been for years.
My other major objection is their unlock policy. While AT&T will finally unlock iPhones after their contract is up, that still requires that I keep a 2-year old phone around for international travel. While exploring my options, I put together this TCO (total cost of ownership) comparison chart of the major US carriers (AT&T, Verizon, Sprint, T-Mobile) and a few resellers.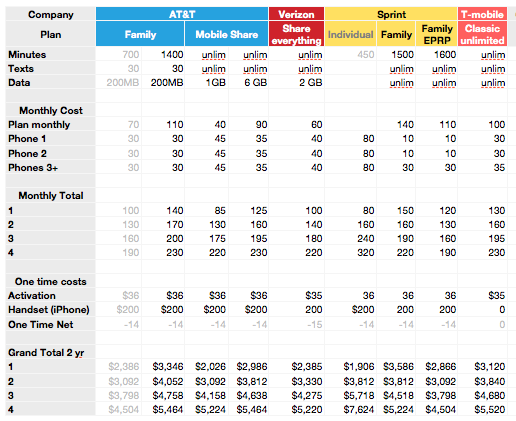 The larger PDF also compares plans from Cricket, Virgin, and Ting. Pricing is shown for each plan with 1, 2, 3, or 4 phones.
Notes:
The One Time Net value assumes the value of an iPhone 5 in two years is $250. If you purchased an iPhone 4 two years ago, that's about what your handset is worth today.
Ting with 3,000 minutes looks outlandish, compared to 1200-1,600 for everyone other plan. That's because Ting and Virgin have no nights-and-weekends, or mobile-to-mobile. I looked at my past 12-months phone bills to determine how many minutes we'd need.
An excellent related post, Which iPhone 5 for a Global Traveller